Our Business
---
---
Ship Owning and Chartering
Ship Owning and Chartering business segment comprises of the business under Uni-Asia Shipping and three wholly-owned ships of the Group.
(i) Uni-Asia Shipping
Uni-Asia Shipping is earmarked as the Group's ship-owning subsidiary focusing on a portfolio of small and medium size dry bulk carriers to provide a stable recurring charter income base to the Group. Further, Uni-Asia Shipping is able to provide ship commercial management.
Uni-Asia Shipping's strategy is to focus on handysize bulk carriers as handysize bulk carriers are versatile in the types of cargo load they can carry. Such cargo loads include grains, cement, clinker, mineral sands, coal, logs and steel products. Dues to small handysize bulk carriers' versatility, liquidity in the handysize bulk market is high.
Depending on the market conditions and clients' need, Uni-Asia Shipping portfolio of small handy dry bulk carriers may be chartered through a single trip voyage charter or up to a few years' time charter.
The ship portfolio under Uni-Asia Shipping excluding commercial management ships is as follows: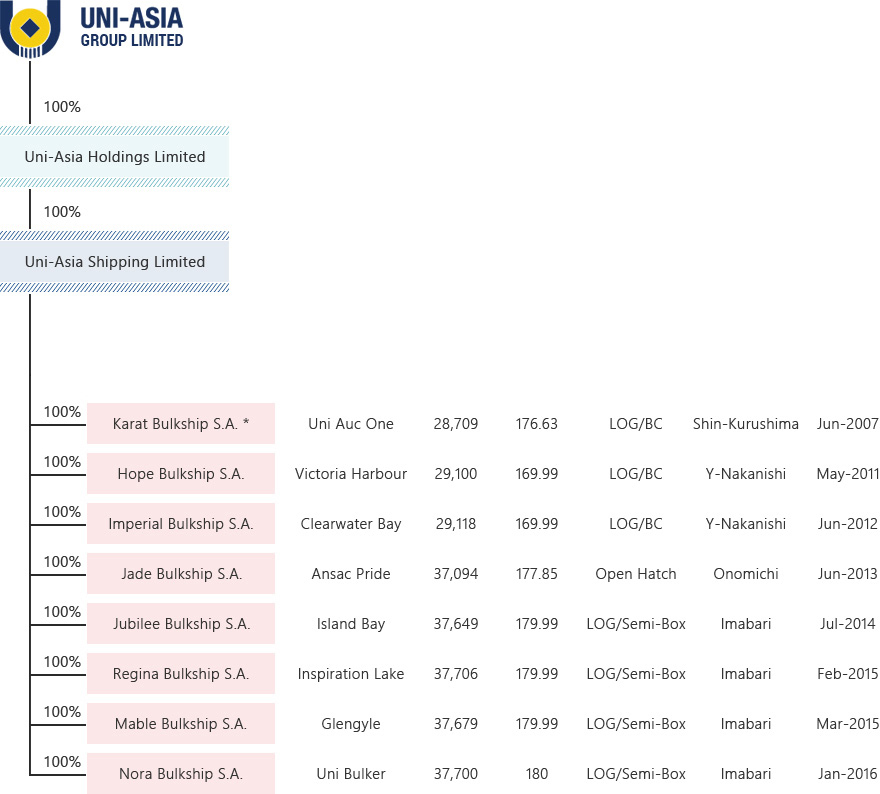 *Bareboat Vessel
More information on Uni-Asia Shipping can be found on Uni-Asia Shipping's website: www.uniasiashipping.com
(ii) Wholly-own Ships not held through Uni-Asia Shipping
The two wholly-owned handysize bulk carriers complement Uni-Asia Shipping in broadening the Group's recurring charter income base.
Wholly Owned Ship Portfolio
Name of Subsidiary
Ship Name
Ownership
Percentage
Type of Ship
Capacity
LOA
Shipyard
Year of Built
1
Joule Asset Management (Pte.) Limited
Uni Challenge
100%
Bulker
29,078 DWT
169.99
Y-Nakanishi
2012
2
Fulgida Bulkship S.A.
Uni Wealth
100%
Bulker
29,256 DWT
169.99
Y-Nakanishi
2009